I am a single woman, in her 30's, who does not want children. "OMG! Blasphemy! Won't somebody please think of the children?!". Sure, ask literally any of my friends circulating in Facebook-land, it's an epidemic right now. Babies are popping out left right and centre, and sure, they are cute, squishy, little aliens, who look a bit like us. I suppose that's a'ight. This is not a plight on babies, and certainly not on those who choose to produce their own adorable little crotch goblins. No, this is simply my open letter to the next well-meaning stranger who asks me about the future of my lady parts.
The problem with being a woman of a certain age is that suddenly the entire world becomes fascinated with the contents, or lack there-of, of your uterus. So let me just clear that up right off the bat. I am potentially infertile, and I'm not fussed about it. At the spry, young age of twenty-one I went on an experimental form of chemotherapy for a tumour I had in my spine. I was told in no uncertain terms, that as the drug was still in the experimental stage that it was unknown what side effects, if any, it would have on my fertility, and did I want to freeze my eggs just in case? I shuffled awkwardly in front of my dad, my equally unprepared boyfriend, and my male doctor, then shrugged. That was the entire extent of that discussion. I guess I could find out what's going on in the barren waste-land that is my vagina, but honestly I spend half my life in-and-out of the doctors office anyway, and the only reason I would even care if I'm fertile is so I didn't freak the fuck out every time I forgot to take my OCP (oral contraceptive pill, for the boys in the back). I have thought about checking it out and donating my eggs, but (and I'll address this later in more detail), I am not a desirable candidate for making a healthy, happy human. Trust me, no one wants this lady goo! In the words of Queen Bae,"I don't think you're ready for this jelly.".
Being single just increases outsiders' anxiety that your God-given gift of producing life may shrivel up like a lifeless raisin before you make use of it…along with your worth as a woman of course (excuse me while I roll my eyes into the back of the head and vomit in my mouth). Allow me to get on my feminist soap box for a moment and ask; isn't it interesting that men, as non-offspring-growing vessels, do not have the same pressure of their worth forsaking them with age? They can just…be! My god, what an unimaginable freedom. That being said, I truly feel #blessed that I am a woman who simply does not picture myself making my own "miracles". That's not to say I don't see children in my life. Despite the tone of this essay, I like children. I like being around my friends' kids, and I reserve the right to change my mind at any stage and have my own little cretins.
To quote the always poignant Ben Folds Five:
"Tell me what I said I'd never do,
Tell me what I said I'd never say,
Read me off a list of the things that I used to not like but now I think are okay!".
But, if I'm honest with myself, I think I'd be much happier adopting forty blind rescue kittens, several three-legged dogs, and in the unlikely occurrence that I change my mind and want a small human to hang around and worship me, I would adopt. Obviously because I'm such a kind-hearted person with a giving soul…psych! It's because no poor unsuspecting child deserves to be forced into my sickly gene pool. This shit is whack.
Isn't it wild how your teens and early twenties are all about avoiding pregnancy at all costs? It is drummed into our heads from a young age that pregnancy is quite literally the most terrifying thing that can come out of having sex (LOL!). Then one day you wake up and you've missed the calling of some invisible body clock, relentlessly ticking away as it hunts you down like the clock-swallowing crocodile from 'Hook' (always with the modern references). Suddenly friends are talking at you about ovulation and minivans, and mucous plugs and family 'vaycays', and whether or not you are going to freeze your eggs, and all I can think about is poached or scrambled with my avocado toast (coz millennial)! It is crazy overwhelming and also extremely gross. Please, and I mean this with all the love and respect in the world; please never mention your mucous plugs to me. I am not now, nor ever will be emotionally prepared for that shit. Thank you in advance.
To the well-meaning people who look desperately into my eyes and say variations of, "You will never love anything like you love your child!". First of all, rude. Stop saying this to people. Secondly you're probably right. I believe a mothers' love is probably very different to any other form of love I have experienced. Just as romantic love is different to familial love, which is different again to self-love, or the love of a dear friend. This might be a controversial response, but… I don't want to love anything that much. I truly, truly don't. It scares the living shit out of me. To me it doesn't fill me with warmth and hope, thinking about the unborn spawn of my loins. I feel a premature grief. I don't want to feel like my heart is living "outside my body". That sounds completely terrifying to me!
The fear is one thing, but the love is another. The way my brain experiences love is extreme. Romantic love is often so intense for me that it is both physically and emotionally painful. I cannot for the life of me imagine the pain of loving a tiny, sweet, helpless, little human that needs me. I can feel the burden of heart-aching love in my chest as I write this. My legs are tense and my chest tight, my breathing has physically changed, and may I remind you…I am writing about a non-existent child!
I once had a dream that I had adopted a gorgeous little boy. When I woke up I cried for days, pining for my little Edwardo to return to me! I grieved my pretend, Mexican, dream baby! I am an insane person. Imagine if I actually made my own human, reared it (is that human children? Sounds like something you'd do to a cow), loved it more than anything, and then something horrible happened to it. Every time my child got sick, or bullied, or experienced heartbreak, I would also be heartbroken, and then what use am I? Maybe I am strong enough to handle that, who knows, but I do know that if given the choice, I'd rather not.
Children are these creatures of innocence that represent hope, right? Well, I as a pessimist must ruin everything beautiful and good, so here goes. I remember seeing a teen/coming of age movie staring a young Christina Ricci and Demi Moore when I was in high school. You know the ones; someone gets their period while wearing white jean shorts, and someone else stuffs their bra with tissues to impress pre-pubescent boys. Demi's character, Sam, was talking about why she didn't want children, and honestly, nothing has ever made more sense to me. The scene went like this:
Roberta (played by Rosie O'Donnell): "I think you'll make a great mum Chrissy, a little overbearing and rigid, but by the grace of God the kid will come out relativity unharmed, if not there's always therapy.".
Samantha (Demi Moore): "This whole baby thing baffles me, I mean you have it, you raise it, you inevitably screw it up, it resents you, feels guilty for resenting you and then it has a baby, which only perpetuates the vicious cycle.".
Roberta: "Thank you, Oscar The Grouch.".
In a nut shell that's why I choose not to reproduce. So you can blame my private school education for that one! But hey, it made sense to me. If I don't have kids, I can't fuck them up. You can't traumatise someone who doesn't exist! That's science bitches.
Additionally, have you seen the state of the world (said in Chandler Bing's voice naturally)? The amount of people I know in their thirties with serious/lifelong illnesses is shocking. Without getting too deep down the rabbit hole, I believe it is because the earth is sick and people are stressed. I mean, Donald mother-fucking Trump is president, our fishies are full of trace plastics (which we in turn ingest), and there is not enough grain to sustain the amount of meat we are producing, even though half of which we are throwing out because we cannot consume it before it rots! I could go on, but it's too depressoccino (that's the worst word I've ever made up so I am forced to leave it in here to challenge my fragile ego. Abuse me, I deserve it)!
We all know the world is in trouble and yet we keep reproducing. The population problem is out of control and we are running our unsustainable resources into the ground. Now, this isn't to say I really give a shit. I mean it sucks but what more can we as the 'little guy' do? I recycle, I use public transport when I can, I limit my meat consumption, and I don't use plastic straws because turtles are the adorable grandparents of the ocean. But I am a nihilistic pessimist and I don't have much hope that the children of our generation won't be living in a Mad Max style environment, fighting to the death for a drop of clean water. There are too many people hanging about for my liking, and people stress me the fork out! I can count the amount of people I like on one hand! What if my kid's an arsehole and I'm forced to unconditionally love him for the rest of eternity, because parenthood? Ew.
Anyone worked with kids? I ask because I truly believe we wouldn't have a population problem if everyone who was thinking about having children was forced to spend an extended amount of time with them before they commit to the idea. I get having a baby is a fun concept, and that (most) people have this animalistic instinct to reproduce. I do understand. Even I, with my ice-cold heart, hit twenty-eight and my hormones lost their baby-making minds! I would cry with joy when I saw babies in prams, I wanted to jump everything that moved, and I desperately wanted eighteen ankle biters, YESTERDAY! But within a year it passed. I breathed a sigh of relief that I hadn't gotten pregnant to a nameless chap at a very drunken beer festival in the mountains of Italy (hypothetically…), and I once again chastised myself. Actually I lie, it didn't just pass. I went on the contraceptive pill for my psychotic brain that fluctuates between homicidal and suicidal tendencies once a month during PMS. And although I am no longer experiencing those feelings (score!), I have been left with zero sex drive. Zero. Zip. Zilch. NADA! I've essentially been chemically castrated by the pill… but hey, better than murder (as I always say)!
When I ask about working, or spending an extended amount of time around a group of mini sex-trophies, I'm not talking about an hour or two babysitting your sisters' kids while she's at hot yoga. I'm talking eight plus hours of out-of-school-hours' care, primary school teaching, live-in nannying, or looking after a baby who has been hooked to mums boob since the day it was set free of its womb-locker, and screams like a banshee in anyone else's care. Non-stop. For hours (by the time mum came home we were both crying, and hated each other more than I ever thought it humanly possible). No, I'm talking having to run around and be entertaining while nursing the hangover from hell. Or cutting and pasting for six hours straight, while a five-year-old by your side is screaming because he's eaten all the Clag and he's still hungry! Or god forbid you get a cold. Parents are not allowed to get sick. You don't get a full day of rest when you have the flu, you can't curl into a ball and cry for your mummy when you get your period, and forget about just having an 'off day', because there is a tiny human that needs to be taught how to exist in the world. I don't even know how to exist! Bear Grylls says that if you are cold and lost in the wilderness that you should crawl into the belly of an antelope. Does that help? Am I parenting yet?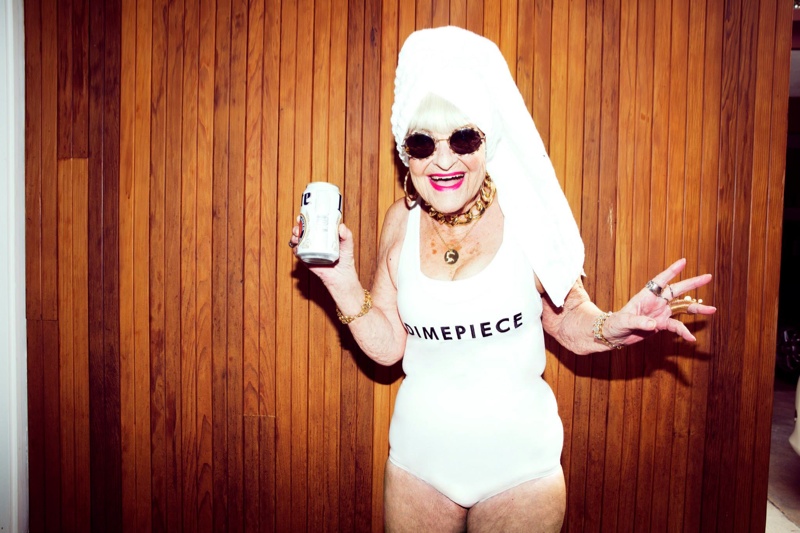 If you have or want children, please don't take any of the shit I'm spouting as personal judgement. This is purely about my choices. Me, me, me! I am an unusual case because my emotional intelligence is probably stuck somewhere in the fourteen to fifteen-year-old mark, whereas my physical body is likened to that of an 80-year old woman with degenerative disease. I know, hot right? I am not the norm (understatement of the year). I am a sleepy gal, who is constantly in pain or sick with one thing or another. I am essentially one of those sickly children you see in renaissance paintings; lying pale and fragile in their mothers' arms. Fun fact; most of them are already dead when the painting is taking place. Is that a fun fact? See, I shouldn't be allowed near children! Jesus take the wheel!
If there is one thing I'm great at, it's collecting mental illness diagnosis. I have the holy trinity; major depression, social anxiety and bipolar, plus a cheeky number of maladaptive personality traits, just to keep me on my toes. If you've ever seen the movie Split, yeah, that should give you a hint into the 'exciement' that is my brain hole! So cute you guys! My doctors call me a "complex case" (which my borderline personality finds very validating), because I'm chock full of both chronic mental and physical illnesses. Honestly, invite me to your next party, I swear I'm a hoot! I can't guarantee which personality will attend, but I can promise it will be unforgettable (and slightly terrifying…)!
In all seriousness, having even one mental illness substantially increases the likelihood of death by suicide. I'm going to throw some facts at'cha, so prepare your faces to shocked and mood to despondent. 15% of people diagnosed with bipolar 1 or 2, or MDD (major depressive disorder – that's not like regular depression, that's like cool depression…and by cool I mean seriously fucking awful), will die by suicide*. That's actually die. The percentage of people who make unsuccessful attempts, or simply exist in debilitating sadness which prevents them from general 'life-ing' is so high it's, well, DEPRESSING! These figures increase significantly again when there are co-morbid conditions; meaning there is more than one mental health condition present, or there are additional factors such as addiction, disease, or chronic pain involved. Sufferers of bipolar also have a 10-20 year less life expectancy than the general population. This is due to a myriad of factors including addiction, death by suicide, and the added risk of stress-related health conditions such as cancer, diabetes and heart disease*. As someone with ALL of the mental illnesses (my mum calls me creative!), additional chronic pain and illness, and a serious history of addiction; quite frankly it's a miracle I've made it this far. Not to be a buzz-kill but the statistics aren't great for a gal like moi! I'm not saying I'm currently drafting my suicide letter, but I am realistic about the fact that my mental illness may eventually be my demise. It's okay, don't be sad. You're lovely.
My 'quirks' can indeed be channelled into my creativity on a good day. But as moodily glamorous as mental illness and addiction can be portrayed in films featuring cool, sexy people like Heath Ledger and Brittney Murphy, the reality is much more like, well, their reality; prematurely dying alone, with a mixture of prescription pills scattered across the bedside table. The days when my brain has decided to take a sanity sabbatical look more like this; sleep, so much sleep, crying hysterically, watching fourteen straight hours of reality television (although, I have been known to do this when happy), possibly drinking myself blind, then crying myself to sleep (in a two birds with one stone type situation). Imagine a child in that household. Even if I was able to eliminate the drinking, does a child (or anyone for that matter) want to watch a catatonic adult fade in and out of consciousness for days or weeks on end? Months?

The longest I've been suicidally depressed for is two whole years! And you best believe I was trying my hardest to get the hell outta that funk. Meds, phsycho & phsychi appointments, exercise, blah blah blah. Put comatosal depression aside for a minute, what if I slid into bipolar mania and, I dunno, spent my life savings on a useless coconut plantation in Fiji (shout out to my late father who was also bipolar…obviously). No, I can't put a child through that, and I don't want to. I don't blame my dad for anything. He was a genius and a madman and I loved that about him, but there is no denying he was difficult. Just as I am. And when you know better, you do better…or at least I'm giving it my best shot.
It is true that there is a strong and clear line of mental illness on my fathers' side, and if I am anything to go by, it gets worse with each passing generation. With all the reasons I've laid out, this is a big one. I would hate to pass on any of my illnesses to my poor unsuspecting crotch fruit. I've had cancer, and that was a ball breaker. But the mental illnesses, and the insidious nature of my chronic fatigue and fibromyalgia are madness inducing, soul-sucking, life-ruiners. For the most part, I struggle my way through life on this mortal coil! I'm pretty sure I was born having an existential crisis. Sometimes it's bearable and other times it's not. The hours I have put into fantasising about being a cat are plentiful. What a nice simple life. All I would have to focus on would be whose lap to nap on, and what next to whack off the table nonchalantly. Yes, that is a life I could make sense of.
Finally, I'll answer the question of who will take care of me when I'm old and grey. Well, who the fuck knows? Probably some kind, young, nurse named Charles, who won't blink an eye when I piss myself, or when I scream bloody murder because I can't find Pepper; my dead cat of 40 years. Often we naively assume that having children will provide us with a couple of things; 1. We will be returned the same unconditional love we have gifted them, and 2. That the love they have for us will be enough for them to want to take care of a mental old loon who thinks you are the house-keeper that keeps stealing her jewellery! I know, I'm the most depressing person in the world! I'm sorry! My mother is an angel and I will gladly(-ish) apply talcum powder to her sweaty under-boob when she's a decrepit old crone (love you mum!). I'm just saying, nothing is certain, and not everyone can be lucky enough to have a daughter as generous and self-sacrificing as me! It's just not fair!
I'm just realising that it's interesting I would rather reject the concept of my unborn (and unfertilised) egg-child now, before it ever gets the opportunity of rejecting me first. Yeesh. I think the roots of this might go a little deeper than I ever anticipated… but just to be safe, I better stop writing before I learn too much about my inner child-baring psyche and accidentally start reproducing! I scurred.
Ben Folds Five – 'Do it Anyway'
*Links re. mental illness facts: